Las Vegas is a hot tourist destination throughout the year! A seasoned investor would want to invest in the Las Vegas market, especially in the Las Vegas high rises, to be able to generate passive rental income from these investment properties. Unfortunately, most of the high rise communities and condos in Las Vegas impose strict rental restrictions with some requiring a minimum of 30-day rental on their properties. Therefore, it becomes nearly impossible to make your property available for short-term rentals or list it on AirBnB.
Why Invest in Las Vegas High-Rises with Rental Programs?
As a popular tourist destination, you'll want to squeeze every dollar out of your investment by having the option to offer nightly rental. It's a great way to diversify your income source from that property.
Las Vegas high-rises with rental programs give you the option to rent out your property a few days or weeks within a month's period. For the rest of the time, you can use that property when you visit Las Vegas with your family or friends. You have the option to list the property on AirBnB or do it yourself!
Either way, a Las Vegas high rise with rental program is a smart investment. It guarantees that you always have a place to stay when you visit Las Vegas and also generate income off of it, especially if you only visit a few times per year or even if you are away from Las Vegas!
Another advantage of owning a Las Vegas high rise unit with rental programs is that the unit is fully furnished. In addition, you can take advantage of the cleaning services available on-property to ensure that your unit is well-kept and properly maintained, even while you're away. You also get the same perks that hotel guests and other residents can offer, ensuring that your tenants can enjoy a quality service during their stay.
Top 5 Las Vegas High-Rises with Rental Programs
These properties located on and off The Las Vegas Strip offer nightly rental programs, which makes them great investment opportunities.
Palms Place
Palm Places is approximately 5 minutes from the Las Vegas Strip. It is located west of The Strip along Flamingo Road, which makes it highly accessible. A short Uber ride away will take you to the heart of the Strip, or you can opt for a walk and enjoy the vibrant scenery of the Las Vegas Strip.
The units at Palms Place range in price from $280,000 (615-square foot studio unit) to $850,000 (1835-square foot 2-bedroom unit). The price is much lower than the other high-rises on this list because it is located a bit off the Strip. HOA fees range from $556 to $1628, depending on the unit size.
Platinum Hotel
The Platinum Hotel is another one of the Las Vegas high-rises with rental programs. It is located across the Palms Place in Flamingo Road or about a block from The Strip. This all-suite hotel is a 9-minute walk from Caesars Palace Station in the Las Vegas Monorail. Therefore, it is easily accessible if you're using the Las Vegas public transport system.
The Platinum Hotel features sophisticated suites that have balconies, fully-furnished, and offer various perks, such as a full-service spa, a stylish lounge, a fitness center, and pools. Units have a starting price of $180,000 and up to $350,000, depending on the unit's size. It is highly recommended for investors who don't travel to Las Vegas often because they have additional charges if you intend to reside in the unit other than renting it out.
MGM Signature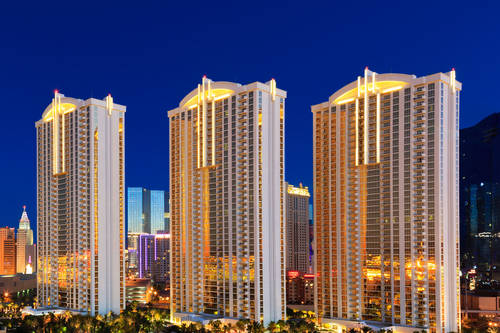 If you're looking for Las Vegas high-rises with rental programs that are located on the Strip, this one's for you. The MGM Signature is a modern all-suite hotel comprised of three towers. It is an 8-minute walk from the MGM Grand Casino via a series of connected walkways.
The MGM is home to the Morimoto restaurant, which is owned by famous chef Masaharu Morimoto. A few other notable culinary names serving gourmet dishes to the residents and tourists of MGM Signature are Wolfgang Puck and Joel Robuchon.
Additional perks of renting your MGM Signature unit is that your guests have access to a sleek lounge, two fitness centers, a private heated pool, and access to the MGM Grand beach club. The units at MGM Signature start at $265,000 and can go up to $1 million. The HOA fees, on the other hand, range from $705 to $2,024.
Trump Tower
The Trump Tower is situated right off the Strip and is located across from the Fashion Show Mall. It is approximately six minutes from the Las Vegas Strip. The high-end hotel is 64 stories high and features a golden glass tower. The moment you walk into the lobby, you are greeted with the glamorous interior finishing of this Las Vegas high rise, which is steep in gold details.
The units feature an upscale design with floor-to-ceiling windows. The bathroom feature marble tiles and whirlpool tubs. Unit prices start at $230,000 and can be as high as $900,000. The smallest unit is 533 square feet in size while the largest one is 1444 square feet.
The Trump Tower offers many upscale restaurants within its premises along with a poolside bar with casual dining. Other amenities in the property include an outdoor heated pool, a gym, and a local shuttle, which is ideal for investors looking to rent their property to tourists.
Vdara
Vdara is a Las Vegas high rise located at the heart of the city center. It is a block away from the Las Vegas Strip. It is an upscale and gaming-free high rise hotel that is connected to Aria Las Vegas through an outdoor walkway.
The modern suites are fully furnished with kitchenettes, living and dining areas, and soaking tubs. The higher end suites have full kitchens and more bedrooms and bathrooms. You can also enjoy spectacular views of the Strip or the famous Bellagio Hotel fountain from some of the suites.
There are many perks and amenities offered to guests at Vdara, such as a luxury spa, a fitness center, an outdoor pool with cabanas, a chic bar, and more. You will be spoiled for options when it comes to the dining selection at Vdara.
Unit prices at Vdara range from $540,000 to $1.1 million. They have studio units or larger units that are up to 940 square feet in size. HOA fees start at $802.
Interested in any of these Las Vegas high-rises with rental programs? Feel free to schedule a consultation with us so we can give you more information about each of these properties. Also, you can reach out to us if you have any questions about these properties or any other property in Las Vegas.